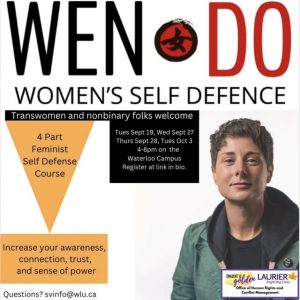 🌟 Empower Yourself: Women's Self-Defense Course Inclusive of Trans Women and Nonbinary Participants 🌟
Are you ready to take control of your safety and well-being? Join our empowering Women's Self-Defense Course, a welcoming and inclusive space that proudly embraces trans women and nonbinary individuals. At Wilfrid Laurier University and at Wen-Do, we believe that everyone deserves the right to feel safe and confident in any situation.
🤝 Inclusivity Matters: We understand that self-defense is essential for all women, including trans women and nonbinary individuals who may face unique challenges. Our program is thoughtfully designed to be a safe, respectful, and supportive environment for everyone, regardless of their gender identity. We celebrate diversity and strive to create a nurturing space where everyone can thrive.
🥋 What to Expect:
Expert Instructors: Our experienced instructors are trained to provide comprehensive self-defense techniques tailored to your specific needs and abilities.
Practical Skills: Learn effective techniques to protect yourself, boost your confidence, and respond confidently to various threats.
Personalized Training: We recognize that each participant is unique, so our courses are adapted to accommodate different skill levels and physical abilities.
Supportive Community: Connect with like-minded individuals who share your commitment to personal safety and empowerment.
Mind and Body Balance: Our course emphasizes mental and physical well-being, helping you develop a strong and resilient mindset.
👊 Take the First Step: Whether you're new to self-defense or looking to enhance your existing skills, our Women's Self-Defense Course is open to all women and nonbinary folks, without exception. Your journey to empowerment begins with a single step.
Join us in building a community where every woman, trans woman, and nonbinary person can stand strong and fearless. Together, we'll break down barriers, shatter stereotypes, and empower one another to take control of our lives.
Don't wait! Sign up for our inclusive Women's Self-Defense Course today and embark on a transformative journey towards self-confidence, safety, and empowerment. Remember, at [Your Organization Name], you are celebrated, valued, and supported. 💪🌈
Course dates:
Tues Sept 19, Wed Sept 27, Thurs Sept 28, Tues Oct 3
4pm-8pm
On the Wilfrid Laurier University Waterloo campus.
Location to be provided via email after you register.