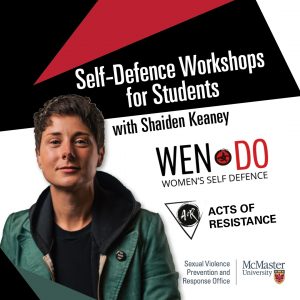 Join us for an action-packed, empowering self-defence class for Mac students who are members of Two Spirit and LGBTQIA+ communities. Get ready to learn essential self-defence techniques and boost your confidence in just a couple of hours. This workshop is Friday September 22nd 2:30pm-4:30pm. All. you need to bring is yourself and some comfortable workout clothes.
At our workshop, you'll be guided by an experienced instructor who is passionate about personal safety and empowerment. Through interactive workshops and practical exercises, you'll acquire valuable skills to protect yourself and navigate challenging situations with ease.
Our program focuses on building physical strength, mental resilience, and self-awareness. You'll learn effective striking techniques, practical self-defence moves, and strategies for staying safe in various environments. Additionally, we'll provide guidance on boundary-setting, assertiveness, and de-escalation.
Don't miss out on making this your most powerful academic year yet! Register now to secure your spot and embark on an embodied transformative journey towards self-empowerment.
Register at svpro.mcmaster.ca/events